France Digitale Day – 25/09/2018
Le 25 septembre, la 5e édition de France Digitale Day se tiendra au Musée des Arts Forains dans le quartier de Bercy, à Paris. Ce rassemblement international regroupe des startups européennes, plus de 3000 visiteurs, 150 journalistes, 200 investisseurs et des élus. Sileron sera également présent ! Venez nous rencontrer sur le stand de SAP.
Des Speakers influents
Le France Digitale Day rassemble des speakers influents sous la forme d'une conférence de haut niveau comme par exemple :
Recast.AI
Co-Founder and VP Product
Shazam
Founder and Board Director
Daphni
NationBuilder
Deliveroo
Taxify
WeTransfer
INSPIRATIONAL Stage, SCALE-UP Stage, EXPERT Stage
Plusieurs thèmes abordés tels que :
– 10 Years of Revolution: Startups and the Customer Experience.
– Building a european unicorn is like climbing a mountain: from zero to IPO
– Will GDPR rule the world?
– Survivor Story: How we overcame challenges that nearly shut our business down
– French Tech- what's next ?
– Tribunal des Générations Futures: Lets kill some unicorns !
– European elections: should startups expect anything from Brussels politicians?
– Is Paris the most attractive city to put your headquarters in Europe ?
– Impact investing – is there a model that works?
– CFO Crunch – Exits: what are the options?
– Will you make it or break it in China?
– Managing Tech Companies Across Multiple Timezones
– Are European e-commerce scale-up doomed to remain local?
Découvrez > l'intégralité du planning et les différents intervenants <
Déroulé de la journée + soirée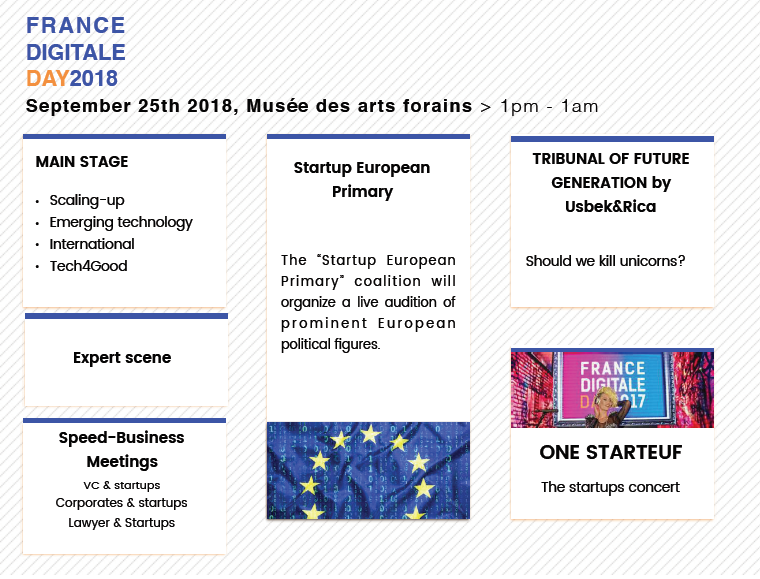 Ne manquez pas ce rendez-vous inspirant !
Accédez à la billetterie – Pass à 430€
France Digital Day #FDD
Date : Mardi 25 septembre
Horaires : 1pm – 1am
Lieu : Musée des Arts Forains, 53 Avenue des Terroirs de France, 75012 Paris
Métro Ligne 14 — arrêt Cour St Emilion (+5mn à pieds)